Company Information
East 33 is dedicated to pioneering the world's best oyster culture, by empowering the people behind it, caring for the places that support it, and delivering moments to be savoured. East 33 represents quality, a dedication to the authentic and an inspired future, focused on delivering a moment of joy. 
East 33 is the largest vertically integrated Sydney
Rock Oyster producer, processor and supplier. Our operations span all elements
of the Sydney Rock Oyster industry from hatchery, nursery and production
farmers to shucking facilities & our Shellar Door™ Thirty Three
Degrees.
Sydney Rock Oysters are extremely rare, natively thriving in less than 41 locations on the east coast of Australia centred on latitude 33 degrees – providing the namesake for East 33 Limited.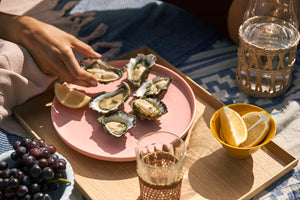 East 33 understands and cherishes the deep roots in its local communities, with our ten founding farmer families being multi-generational leaders in the oyster industry since 1884. East 33 is proud to play a key role in showcasing the incredible diversity, exceptional characteristics and extraordinary history of this uniquely Australian product to the world. 
Environmental sustainability is at the forefront of East 33's business, employing world-class sustainability practices and actively seeking to collaborate with government, industry, and the communities where it farms. 
With FY23 revenue of $24.6m and EBITDA of $(3.4)m,
East 33 listed on the Australian Stock Exchange in July 2021 raising capital to
undertake a transformational growth program which will propel East 33 for
generations to come.
Quality
Fostering a marriage of artistry, innovation, and over 130 years of farming expertise to deliver a consistent product and experience.
Authenticity
Acting with intent, honesty, and authenticity with all that we do.
Inspiration
As custodians of a multigenerational legacy, we will draw from past experience to create an inspired future. With our industry at the centre of these decisions.
Joy
Life is about savouring the moments of joy. The Sydney Rock Oyster represents a moment of celebration and acts as a reminder to always look for the joyful moments in life.
Our Operations
With over 130 staff predominantly based regionally, our operations span all levels of the Sydney Rock Oyster market.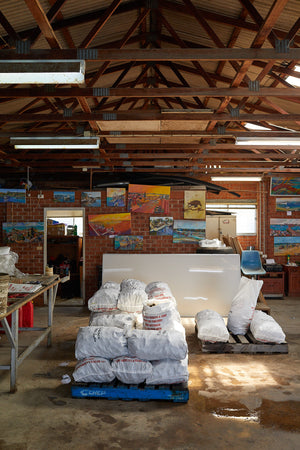 LARGEST SYDNEY ROCK OYSTER PRODUCER GLOBALLY  
 Produce 30% of Sydney Rock Oyster hatchery production. 
 Largest single hectarage owner 
Year round supply network 
LARGEST PROCESSOR & DISTRIBUTOR IN NSW 
 Currently handling circa 21 million oysters per annum 
 25% of total industry production, processing, and distribution of Sydney Rock Oysters 
 The largest processing facility in NSW  
WALLIS LAKE 
The East 33 Group owns a number of oyster farms and associated infrastructure at Wallis Lake. The farms are amongst the oldest in New South Wales, with many having been in the same oyster pioneering families for multiple generations. The East 33 Group integrates some of the oldest producers of SROs, combining 130 years of knowledge with corporate management to drive growth and technological advancement. 
CAMDEN HAVEN 
The East 33 Group owns a hatchery at Camden Haven, North of its farms at Wallis Lake. The hatchery has the capability to produce Sydney Rock Oysters alleviating the reliance of wild caught oysters. 
PORT STEPHENS 
The East 33 Group owns a nursery at Port Stephens, South of its farms at Wallis Lake. The nursery supplies spat for East 33's farms. The consolidation of neighbouring waterways provides key points of scale and efficiency gains in both oyster nursery and oyster production. 
PACKING & DISTRIBUTION FACILITY 
The East 33 Group owns the largest processing and distribution facility, handling ~25% of total industry production, and processing and distribution capacity of circa 21 M Sydney Rock Oysters per annum. This provides extensive downstream market reach, and upstream access to regional supply, processing systems and procedures. East 33 has also successfully obtained SRO export-approval for its distribution facility, giving it a significant competitive advantage. 
THIRTY THREE DEGREES RESTAURANT AND SYDNEY ROCK OYSTER BAR 
The East 33 Group supplies and owns restaurant and bar Thirty Three Degrees located on the pristine waterways of Wallis Lake and the home of East 33 oyster leases. 
THIRD PARTY SUPPLIERS 
Outside of East 33's owned oyster farming operations, East 33 sources oysters from farmers and trusted third party suppliers up and down the coast of NSW.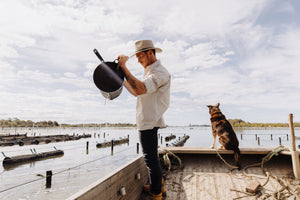 BOARD OF DIRECTORS 
East 33 has an experienced Board with significant commercial acumen: 
Ms Sarah Courtney — Non-Executive Director and Chair 
Ms Veronica Papacosta - Non-Executive Director
Mr. Michael Ryan — Non-Executive Director 
Mr. Ben Cameron — Non-Executive Director 
Mr. Gary Higgins — Non-Executive Director. 
Sustainability
Sydney Rock Oysters are native, growing naturally, and have thrived for thousands of years on the East Coast of Australia. We foster this natural process by committing to sustainable farming practices, safeguarding our pristine aquatic environments with stringent oversight and by engaging with industry-leading bodies that set and regulate quality standards.
Many of the East 33 Group farmers are involved in industry-leading organisations including SoCo Board of Directors, NSW Oyster Farmers Committee, and State Shellfish Advisory Committee. East 33 works closely with those groups and government bodies to ensure the health of the waterways in which we operate.
East 33 is uniquely positioned to take the highest quality Australian produce to the world. 
Through harnessing a century of quality, generations of knowledge, access to the most treasured nurseries in the world, pioneering technology, world-leading breeding programs, and a sophisticated corporate management model.  
Our RSA
East 33 & Hamilton Supervisory Pty. Ltd. supports the responsible service of alcohol. If you look under 25 you will be asked to present valid photo identification. We will not serve intoxicated persons. 
Under the Liquor Act 2007, it is against the law to sell or supply alcohol to, or to obtain alcohol on behalf of, a person under the age of 18 years. NSW Liquor License Number LIQP700383860. 
Media Kit
For all media enquiries please contact info@east33.sydney